concrete with recycled brick aggregate 
About the Product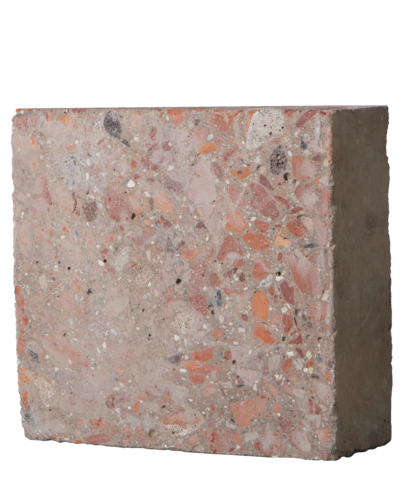 The concrete with recycled aggregates from bricks is a mineral product of water, recycled bricks, sand, cement and concrete admixtures. Bimolab's material sample used 70 (vol.)% recyclate, which is produced from processed brick crushed. These are samples which have been developed within the framework of research.
RC concrete with recycled aggregates from bricks is used as concrete in building construction as RC concrete type 2. Characteristic of this concrete is its red colouring by the bricks.
The use of recycled material protects primary raw materials. The climate-impacting gases cannot thus be reduced. When used, the distances from the point of concrete demolition and its processing must be balanced with the distances from fresh concrete in order to prevent a rebound effect.
Depending on the type of construction, concrete can be reused (especially in the context of serial construction). High-quality recycling of RC concrete type 2 is still unclear.
Manufacturer: Bimolab gGmbH
Keywords