lightweight construction panel
About the Product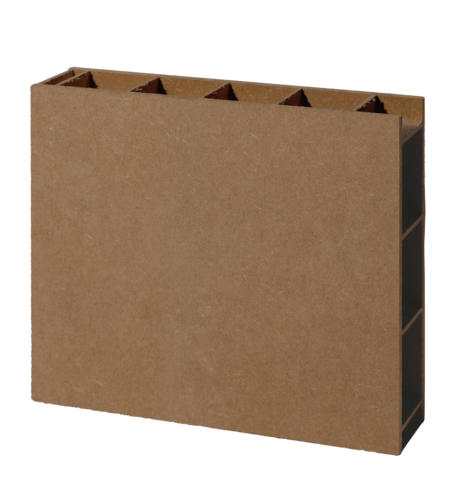 High-density fibreboard (HDF) is pressed with glue under pressure and heat in a dry process, achieving a density of over 800 kg/m3.
The Dutch manufacturer Finsa produces lightweight construction boards (Green Panel) using combined heat and power generation with minimised energy consumption. The lightweight construction panel is a multi-wall panel made of wood. It consists of a grid of interwoven high-density fibreboards (HDF strips), which are glued to HDF top layers. The board thus has high strength with low weight of 74 and 250 kg/m3 and is characterised by material efficiency. Areas of application are in interior design, floor constructions or furniture production.
The wood is from FSC and PEFC certified forests and the products have an Environmental Product Declaration (EPD) and LEED certification. The wood comes mainly from Spain and Portugal and is processed there. As the manufacturer cannot currently do without formaldehyde (emission class E1), high-quality recycling and biodegradation is difficult. Re-use and further processing are still possible.
If the glue used does not contain toxic additives, the board is biodegradable. Otherwise, the multi-skin panel can be broken down into its individual layers and recycled.
Manufacturer: FINSA BV