Pre-dried clay wraps on beams
About the Product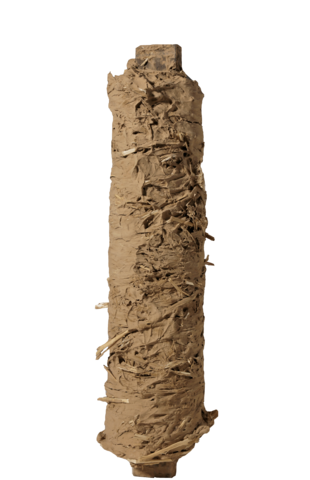 Clay wrap stakes are made from oak wood, soft clay and long rye straw. A damp mixture of clay and straw is wrapped around the wooden strut by hand or partially mechanically and then air-dried.
Clay wrapping beams are used for filling and soundproofing in the restoration and construction of timber frames and storey ceilings. The elements are placed on battens that are attached to the wooden beams. The length of the element can be slightly shortened for use in irregular constructions. The installed elements can then be plastered or covered with panels. Fillings made of mudwood struts are durable and last for around 100 years. Damaged elements can be easily removed and replaced.
Claytec's adobe struts are made from oak wood that has been dried for two years and is sourced from local forests. The rye is organically grown and the clay uses no harmful additives. The beacons are hand (or semi-machine) rolled, reducing the amount of electricity used in production.
Claytec offers the product in lengths from 60 to 110 cm with a diameter between 12 and 14 cm and a weight of 1 kg/m.
To transform the product into its raw materials, the clay-straw mixture has to be broken from its oak core and then sieved or washed out. As the straw is in particularly long stalks, any remaining pieces can be easily sorted out. The stakes (if intact) and the clay can then be reused. Alternatively, the clay wrapping stakes can be returned to the biological cycle, as they consist entirely of natural building materials.
Manufacturer: CLAYTEC e. K.
Application
Technology