Recycling carpet tiles
About the Product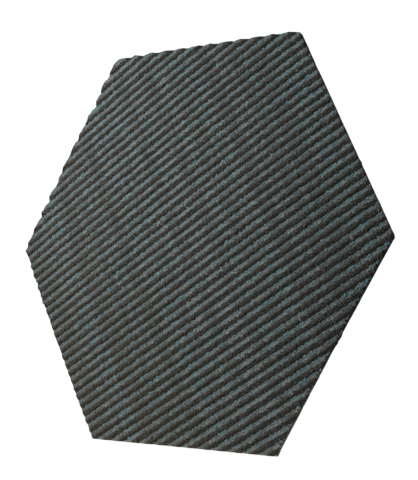 The wear layer of carpet is usually made of natural (new wool, cotton, jute) or synthetic (polyamide, polyester, nylon) fibres. Mixed yarns such as polyamide and new wool are also possible. The fibre construction is usually fixed to the backing fabric and, if necessary, to the back coating with an adhesive compound. Synthetic rubber (SBR latex) is usually used for this purpose, but natural rubber latex can also be used. The fibres are usually embroidered into the prefabricated carrier material by multiple needles arranged in parallel (so-called "tufting process"). In this way, the yarn forms numerous small loops. Carpets are mainly used as indoor floor coverings. Carpets have a heat-insulating effect and improve room acoustics and sound insulation. In addition, they are elastic and have a high haptic quality, which can reduce the risk of injury in the event of a fall. Carpets made of synthetic fibres are hard-wearing and easy to care for but have a high hydrostatic effect. They may contain toxic ingredients such as PVC or polyurethane soft foam. Carpets made of natural fibres are less susceptible to dirt but are hydrostatic largely neutral and free of toxic additives. They absorb moisture and release it back into the room air in case of dryness.
Tarkett's Benelux carpet tiles Desseo AirMaster Gold are made of recycled nylon, which is made from old fishing nets, among other things, in cooperation with Aquafil. According to the manufacturer's EPD, they are produced with a pre-consumer recycled content of 52% and a post-consumer content of 10%.
The advantage of laying the carpet tiles is that the carpet does not have to be glued. They can be attached to the corners of the tiles with a special tape to remain non-destructively detachable.
The recyclable yarn ('Econyl') and the back coating ('EcoBase') can be recycled in a closed circuit without loss of quality. The manufacturer guarantees the recycling of the yarn and the back of the tiles in the 'ReStart' take-back programme. The product has been awarded the Cradle to Cradle® Gold certification and has a very low VOC content.
Manufacturer: Tarkett Holding GmbH
Keywords