absorption and insulation panel made of recycled glass
About the Product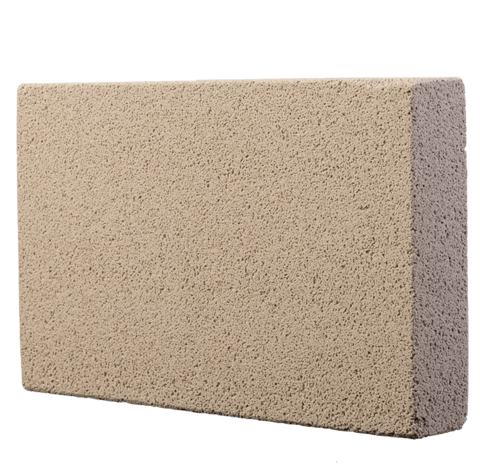 The volcanic rock perlite is ground and processed into perlites. These are heated to 1000° Celsius, so that water escapes and it expands its volume. This expansion results in expanded glass granulate, a light material with good thermal insulation properties.
Expanded glass granulate does not rot, is not flammable and as a bulk material is open to vapour diffusion with good water resistance. It is used as an insulating or levelling fill in walls, ceilings or roofs and as an aggregate material for lightweight concrete or thermal insulation plasters.
The sound absorption and insulation board Reapor from the manufacturers Liaver and Sto is made of approximately 91% waste glass. The rest is made up of binder, blowing agent and water. In this case, the expanded glass granulate is pressed into panels in a thermal process. This produces fibre-free boards with sintered necks, which are characterised by high durability and have a sound-absorbing effect due to their open-pored structure. The panels are used in interior design with higher requirements for acoustics and noise protection and as noise barriers in exterior areas. In order to achieve water impermeability, it is, for example, hydrophobised with silicone resins or coated with bitumen, which makes high-quality recycling difficult.
Theoretically, the panels can be reused, but they are relatively brittle. Comparable to pumice stone, edges can be damaged during removal.
Manufacturer: Liaver GmbH & Co KG